HARBOR WRECK

USE AT YOUR OWN RISK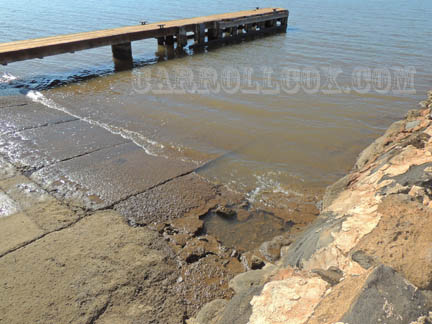 The Kikiaola Boat Harbor, Kauai
The week of October 13, 2013, we met with fishermen and boaters on the Island of Kauai to hear their concerns about deteriorating conditions at the Kikaola Small Boat Harbor, operated by the Department of Land and Natural Resources, Division of Boating and Ocean Recreation. They told us their complaints to harbor management have been ignored. Here are some of their complaints, all of which we observed first hand (see pictures):
The main entrance does not have a deceleration or turnout lane for entering and exiting the harbor's main entance.

The roadway to the dock is riddled with potholes and severely broken asphalt.

Sharp pieces of rebar or metal protrude from the asphalt or the base of the road.

Electrical wiring is exposed on the light post and pavilion.

There are broken and rusted light and electrical fixtures.

There is only one toilet in each of the men's and women's restrooms, and the area is not well maintained.

Several exposed concrete pilings with sharp and rusty metal are in the harbor.

Chains strung from poles to prevent traffic are not marked with signs to alert drivers or pedestrians to their presence.

A sign advising "USE AT YOUR ON RISK" is posted by the boat ramp, but it is not clear who posted it.

There is a concern that recent work on the harbor jetty and breakwater walls have created conditions that increase ground swells.
The boaters also expressed concern with the way state officials have refused to address their complaints. They believe that, if the state is collecting fees for ramp use, it should be made safe and the roads and highway entrance to the harbor repaired and upgraded. They claim the state knows that the number of harbor users is increasing daily, but no attention is being paid to the upkeep of the harbor and surrounding area.
The pictures tell the story.
Besides the many local fishermen, this is a heavily used tourist area.

Small, single stall man and woman restrooms (and we all know what they look like inside).

Just getting there is a hazard.

The picnic area may look alright but look closer. In the background there is an unmarked chain across the path.

You could easily trip over this what is hard to see.

Take a closer look, and even more danger appears.

Hazardous to the touch, and be careful where you step.