NEEDLES AND OTHER NONSENSE

MEDICAL WASTE POLLUTES OCEAN BY KO OLINA RESORT
The public needs to needle the State of Hawaii Department of Health (DOH) in order to get the truth about the recent discharge of contaminated water, on January 13, 2010, from the Waimanalo Gulch Landfill. Although the discharge included dirt containing heavy metals and chemicals, such as chlordane, dieldrine and aldrin, and medical waste such as blood vials and syringes, our government immediately blamed it on "the storm of the century" and were slow to react. However, it should be noted, on January 10, 2011, in a news story featured on KHON News, we warned the DOH and public that something like this just might happen. In particular, after the first heavy storm in late December, and after we found large sheets of landfill liner in the outfall by the ocean and in the stream, we reported evidence that cell E6 in the Waimanalo Gulch Landfill had been damaged and an overflow occurred. This was surely signs of problems to come. Therefore, it can be shown that the discharge on January 13 was a result of mismanagement and not the "storm of the century". (Link to KHON's Story).
The State of Hawaii, Waste Management Systems, and the City and County of Honolulu were quick to cover up the discharge. DOH spokesperson Janice Okubo made this statement: "7.5 million gallons of storm water gathered inside the E6 cell of the landfill during heavy rains that began December 19. The estimate was provided to state health inspectors by Waste Management, the company that runs Waimanalo Gulch for the City and County of Honolulu. Some amount of that water or more was discharged into the ocean, and Waste Management has been unable to provide that amount to the DOH"
Sources close to the landfill informed The Carroll Cox Show that water flowing into the E6 cell was due to a malfunctioning drainage system, put in place by Waste Management Systems. They told us heavy buildup of debris in a drainage pipe backed up and flooded cell E6, which was filled with trash. They also attributed the backup to a design flaw. We will be investigating and confirming this with the state.
Even while Governor Abercrombie's newly appointed deputy director of DOH, Gary Gill, conveyed to the public that the runoff, with vials of blood, needles and trash in the flowing water, should never have happened, we were informed that inspectors and senior management of DOH's Solid and Hazardous Waste Branch were aware of adverse conditions prior to the runoff, knew there was a design flaw, and knew that the E6 cell had already collapsed. In fact, it was documented with photographs and reports during visits by state inspectors, who conduct at least two inspections a week at the landfill. DOH management advised them not to include some of this in their reports. We will be requesting copies of these documents and other reports, and hope they come clean with the photographs and documentation.
Waste Management Systems, upon discovering that their pipe system overflowed into cell E6, should have sent a letter to DOH informing them of the incident, notifying them of the failure of the walls, thus exposing it and causing medical waste and other buried garbage to wash out into the channel and subsequently into the ocean at Ko Olina resort..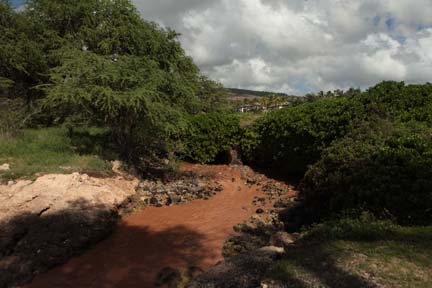 Stream with Ko Olina in the background
The head of the City and county of Honolulu's Environmental Services Branch, Tim Steinberg, suggested that the current discharge was due to a heavier than usual rainstorm, so this condition could not be averted. But we are in receipt of conflicting information. Sources told us that Steinberg insisted on relying and reporting on information from a meteorological weather station situated at a higher elevation of the Waianae mountain range, where rain is heavier and the station records a higher rainfall. He ignored the station that is positioned immediately on the landfill site, which is required to measure rainfall and leachate or wastewater.
| | |
| --- | --- |
| | The Carroll Cox Show was informed by the state that no samples have ever been taken at the outflow in the past, only at the sediment basin on the landfill. We also learned that during earlier events no signs were ever posted warning the public of contaminated water. As a result of the complaints this week, and earlier stories, they have now posted signs and are sampling water at the discharge pipe near the ocean. |
| | |
| --- | --- |
| But, here is one reason we suspect a cover up and why they are taking the discharge so lightly. Official signage was posted saying "Keep Out - Contaminated Water". But upon posting the sign some official wrote "potentially" on the sign. This sign went up after they hired temporary workers to pick up the medical waste. If they knew medical waste was there, and it was coming from cell E6, why would they put "potentially"? To confuse the public and take the edge off? | |
The public should not drop their guard on this one because, even though they are sampling, the results will not reflect the true toxicity of the water that is flowing down. It is common practice, when you are introducing a lot of fresh water to a known contaminated source, you are diluting it. Many industries and big businesses have said "dilution is the solution for pollution". Not only that, DOH claimed the medical waste had been sanitized before going to the landfill. (see story and pictures on that issue).
One conclusion we are considering, this is about money and the bottom line. In the past the landfill received 1700 tons of trash per day, but that amount has now been drastically reduced because trash has been diverted to H-Power, and to Hawaii Waste Management where the intention was to ship it out. Waste Management Systems receives a fee per ton they process. DoH also gets money per ton. They now receive a lot less money.....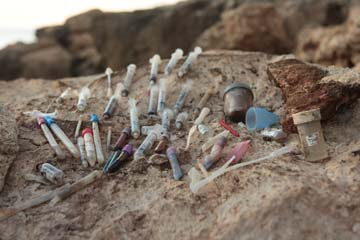 On January 10th we warned DOH about our concerns regarding what would happen during a heavy storm. On Friday, January 14th we found out. We saw signs being posted and observed people hired by Waste Management picking up the medical waste. On Saturday we returned to see if they would be picking up more waste. Although, on Saturday, we again found more than 20 syringes with and without needles, several vials of blood and other body fluids, and other medical waste, we did not see a single person picking up anything the entire day. As we stood there, the discharge continued and we observed more waste flowing into the water that we could not retrieve.
We have been informed by inside sources that DOH already concluded it would not issue citations. We will be working on this, asking Governor Neil Abercrombie and Mayor Peter Carlisle to intervene, and asking that all records of inspections and activities at the landfill be immediately released. We would like to give you more information, but government is not being forthright. What do you do when the government covers up for big business and the city? As you know, the landfill was fined 2.8 million dollars in February, 2006, for other violations. Why not now?
At the end of the day, this is plain wrong:
Stay tuned for information regarding our investigation.
Carroll
Link here for the story in the Hawaii Reporter 1/19/11